Heavenly Lights: Noah's Journey
Barbara M Britton
Pelican Book Group
Released February 2020
Biblical fiction
$5.99 eBook
$15.99 Print
210 pp
About the Book
Fiction from Joshua 5-8; the daughters of Zelophehad go forth with God into the book of Joshua.


Noah bat Zelophehad might have broken tradition by being able to inherit her father's land, but her heart's desire is to have the finest herds in all of Israel, something an orphaned and unmarried woman has never achieved.
Jeremiah ben Abishua cannot speak, nor hear. God has made his thoughts captive to his mind. But he can communicate with one shepherdess, a woman who sees his skill with animals and treats him like a man worthy of respect.
When their people disobey God and incur his wrath, Noah and Jeremiah must overcome tragedy in order to change perceptions in the tribes of Israel. Will their kinship desire to care for one another and the four-legged creatures God has placed in their care, be able to flourish in a land filled with enemies of the One True God?
God gave Noah bat Zelophehad four sisters, a way with four-legged creatures, and a strong spirit. She will need all three gifts to thrive in the Promised Land of God and find love with a special shepherd.
Coming in April 2020: Claiming Canaan: Milcah's Journey
My Review
The second installment of Britton's well-researched and imaginative biblical fiction series is a delight. The author focuses on the little-told story of the daughters of Zelophehad who were bold enough to claim their rightful inheritance in the Promised Land after Moses led the Hebrews out of Egypt.
Noah is specially gifted in animal husbandry and the story opens upon her assisting in a difficult birth and devising an innovative therapeutic approach to encouraging the offspring to thrive—a talent that will come in handy in the future. Although her clan of five women has been recognized in the world of men, it's still an unusual and prejudicial struggling community of Israelites navigating and battling to follow God in an alien land and culture. The women must continually stay alert to protect their reputations and future. If the feisty Noah has any weak spot it's for her fellow shepherd, the deaf-mute Jeremiah, strong and faithful and utterly devoted to her and their work. Neither dares entertain more than a passing fancy that they could join their lives; in fact, Noah is so dedicated to her work she would rather not marry anyone if it means she might not be able to care for her beloved herds.
Jeremiah knows he has to prove himself a man in the eyes of his clan before he can dream of marrying. Even if it means risking his life in battle…as well as with his crafty brothers.
Heavenly Lights is the story of Noah and Jeremiah's devotion to the God who created the earth and all the stars of the sky; the God who listens and cares for His people and provides not only our needs but the desires of our hearts. Told through both Noah and Jeremiah's viewpoints, readers of biblical fiction will appreciate Britton's detail and faithful retelling of the story of these deserving women.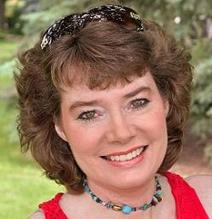 About the Author
Barbara M. Britton was born and raised in the San Francisco Bay Area, but currently lives in Wisconsin and loves the snow—when it accumulates under three inches. She writes romantic adventures for teens and adults. Barb has a nutrition degree from Baylor University but loves to dip healthy strawberries in chocolate. She is a member of the Society of Children's Book Writers and Illustrators, Wisconsin Romance Writers of America, Romance Writers of America and American Christian Fiction Writers. You can visit Barb online at
www. barbarambritton.com
or follow her on Facebook and Twitter.