Book 3 in the Express series
Joy Express
Pelican Ventures LLC, Harbourlight Books
November 8, 2019
Christmas inspirational fiction
$4.99
About the Book:
Nearly a year has passed since Scott and Bailey's Christmas wedding. Now they are expecting joy in the form of twins! The day arrives for the opening of Barkley House, a missionary retreat provided by Bailey's inheritance, but an unspeakable evil descends upon Bailey as she awaits...
Shocking revelations accompany Bailey's ordeal. Will she ever find joy again?
My Review:
The third book in the series set in Texas, in this story we are re-introduced to Bailey and Scott West, and literally come in the middle of frightening action and dreadful secrets.
Told in alternating first person, Bailey and Scott, who married a year earlier, are expecting their first baby…babies…like, any second. Complicating the matter is Grandpa Brown, on the lam with embezzlement charges on his head and serious anger issues, has a strange way of "just trying to talk" to his oldest daughter for the first time in twenty years. There's much more to his story, and Bailey comes to learn just how dark the world can be, but also how big her heart can grow. With Bailey at such a desperate place, Scott fears not only for her, but worries over his own abilities to be the husband of strength and faith she can rely on.
As we come in the middle of a traumatic event, references to friends and family, an inheritance, settlement, and a dedication of a missionary retreat are somewhat vague in the early going. I recommend reading the stories in order to get the full picture.
Joy Express is a sweet, detailed episode in the Wests' lives as Bailey faces peril and then she and Scott learn about parenthood and reliance. Set during Bailey's favorite time of year, Christmas, Joy Express is a warm Texas holiday treat of a read.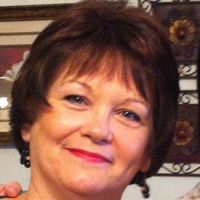 About the Author:
I am an author who looks at life through love-colored glasses. My passion is inspiring people to live a life that embraces who they are in Jesus Christ. I write poems, articles, devotionals, and novels from West Texas, where I am President of the Fort Stockton area writers group called Critique Café. I am a member of ACFW and Faithwriters.com. My debut novel,
Washout Expres
s, and the sequel,
Wedding Express
are published by Harbourlight Books/The Pelican Group. My poems and articles have appeared in
Mature Living
,
The Old Schoolhouse Magazine
, Christiandevotions.us, and EveryDayPoets.com. I'm published with Pelican Ventures under the imprints of Harbourlight and White Rose.