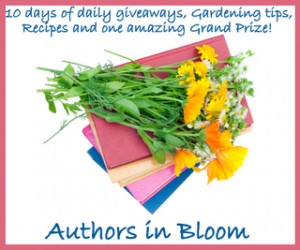 10 Days of Giveaways - Gardening Tips – Recipes - and more!
Plus a GRAND PRIZE* you'll be digging to win!
What will be given away?
Everything from books to swag, promotional products and more! The grand prize is a Kindle or Nook (a $200 value) and a $25 gift card worth of ebooks!!! (Winner's choice which ereader and ebook retailer gift card.) A second prize of $25 ereader gift card will also be given, available to INTL residents (VOID where prohibited by law). Authors will note US or INTL for their giveaway eligibility. Where US or INTL is not specifically noted, US eligibility will apply. The grand prize is available for US entrants only.
hosting a Facebook Party for the entire 10 
days, including more garden tips, recipes, fun facts, etc. at 
http://www.facebook.com/DianneVenetta (Click open in a new tab in your browser if direct click 
doesn't work. Feel free to join in.
GRAND PRIZE: We are giving away a Kindle Fire or Nook (winner's choice) along with a $25 gift card for the same. We are also giving away a 2nd prize of $25 gift card. To be eligible, you must visit, comment and leave your email address on each of the stops on this blog hop.

The link list is posted BELOW for your convenience.

Winners will be posted on both the first Dianne Venetta and last
A Cozy Reader's Corner,
websites on April 19, 2014.
LOFOL PRIZE: By leaving a comment here on my blog along with your e-mail contact, I'll pick one winner for a copy of my book The Newspaper Code, a cozy mystery in which deadheading the Petunias has a whole new meaning. The prize is an eBook copy of your choice to anyone, or a pBook (only to those residents in the lower forty-eight United States for the pBook, please).
If you subscribe to my blog network (on the right side), and like my Facebook Author Page, you'll be eligible for multiple entries into the GRAND PRIZE…and if you happen to be the thousandth person to like my Facebook Author Page, you'll get to pick a book of mine as a gift – eBook or pBook (only lower forty-eight US residents for the pBook mailed to you, though, please).
Who doesn't like

tulips

! I have always liked them, but since my youngest son married a cute Dutch girl who adores tulips, I've discovered a whole new appreciation. Here are some of mine.
In order to keep the blooms large and lush each spring, I use this

tip:

As soon as the petals fall off, I nip off the seed head. This allows the bulb to keep all the energy that normally would go to growing those seeds. Try it! You'll end up with a bunch of headless stems, but…well, it's only a little different from bulbous seed heads, right?
Remember, leave a comment with your e-mail connection, and share a tip of your own if you'd like, to be entered in my drawing for a copy of The Newspaper Code, as well as to entered in the Authors in Bloom GRAND PRIZE.
I polled a few friends on Facebook for their tips:
Ann-Elizabeth Phelps Schrock

I got the kind advertised to "naturalize" so they come back really nice every year. Here's a tip -- every fall, plant more bulbs

Nancy Parker

Planted seeds in little containers. It is fun to see my sunflowers, nasturtiums, and kale growing. I will put them out for some Sun this weekend and then back in until some more nice days.
Here's a fav recipe of mine, using lots of garden veggies.
Wisconsin Cheddar Chowder
A nice hearty soup with garden vegetables, ham and cheese.
Serve as a meal or a first course.
For six-ten servings – very easily adjustable according to desired amount.
Tip: Have all the ingredients ready before you begin cooking.
2 very large or 4 medium carrots, peeled and shredded
4 baking-size potatoes, peeled and shredded
1 1/2 cups either fresh or frozen broccoli flowerets
1 onion, chopped fine
2 cups shredded cheddar cheese
1/2 gallon milk or more
1 cup chopped cooked ham, if desired
1/3 cup butter or margarine
1/4 cup or more flour, depending on desired thickness of soup
Salt, pepper, other herbs as taste such as: caraway, rosemary, savory, parsley, chives, celery seed, parsely; can also add mushrooms, parsnips, rutabaga, peppers, cauliflower or adjust any of the above vegetables
Roux:
In a dutch oven or largest size sauce pan over medium heat melt 1/3 cup butter or margarine, 1/4 cup flour, 1 T. salt and 1/2 tsp white pepper.
As the mixture thickens, very gradually add a little milk to make a sauce. Gradually add, alternating, cheese and milk, slowly, so that a smooth sauce forms. Stir constantly—do not let the mixture stick or boil. When all the cheese is added and there's about three cups of sauce, begin adding prepared vegetables and ham.
When all the ingredients are incorporated, add as much remaining milk as needed to cover the vegetables.
Turn heat down to very low, cover and cook up to an hour or until vegetables are soft. Stir often – do not boil or the milk and cheese tend to curdle. Whisk if this happens.
Adjust seasonings before serving. Good with a hearty rye bread and a salad.
*This soup doesn't keep very well in the refrigerator as the potatoes tend to turn dark if not completely covered with sauce.
About The Newspaper Code:
Judy Wingate's NOT-BFF, Olivia Hargrove of the Robertsville Reporter, discovers a Civil War-era secret newspaper code that may lead to a seven million dollar windfall.
Not long after Judy and Hart's baby is born, Judy and Ardyth are embroiled in another murder. This time it's 99-year-old Esme Espe, the queen of the Petunia Society, Robertsville's Garden Club. Dead-heading petunias has become a serious undertaking in Robertsville.
Esme's gruesome murder by garden claw soon catches the attention of the Robertsville Reporter's chief editor and nosy correspondent, Olivia Hargrove. Clueless Olivia decides to befriend Judy and burrows into her life. Judy still holds a grudge but in order to learn more about Olivia's secret project with the dead Esme, Judy reluctantly agrees to spend time with Olivia who is in desperate need of advice…and a makeover.
Circled letters of a Civil War era newspaper vex Olivia, and when she learns Esme found an historic discrepancy in the town treasury, she and Judy must solve the riddle in the newspaper and race for the treasure before the murderer gets to it first.
Judy's best suspect is the new guy in town. But how can she tell Olivia her boyfriend might be a murderer?
Available at your favorite online retailer or for order from your favorite book seller.
*"Giveaway ends April 16th at 11:59 PM EST. Open to Legal Residents (18 years of age or older) of the US only. Prizes cannot be shipped to PO Boxes. Winner will be selected by Rafflecotper.com and be notified by email. Winner will have 48 hours to respond before a new winner is selected. Please note that Dianne Venetta, host of the Authors in Bloom Blog Hop, is not responsible for sponsors that do not fulfill their prizes. I have represented each sponsor with the expectation they will fulfill their prize and in a timely manner. I will contact the sponsor regarding your prize(s). The sponsors, in most cases, are shipping their items to you directly. I will make every effort to assist you in obtaining your prize. If there is an issue with a sponsor, please notify the blog you won a prize from within 30 days for assistance, after that we may be unable to assist you. The product provided for the review was free of charge from the company. The product offered for the giveaway is free of charge, no purchase necessary. My opinions are my own and were not influenced by any form of compensation. Facebook, Twitter and Google+ are in no way associated with this giveaway. By providing your information in this form, you are providing your information to me and me alone. I do not share or sell information and will use any information only for the purpose of contacting the winner." VOID where prohibited by law.