Remember Me,
by Lara Van Hulzen
October 2014
Book one in the Men of Honor series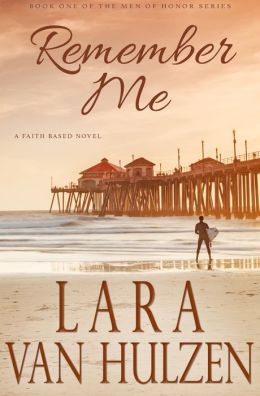 ISBN: 1502450062
Ebook $3.99
Print: $9.99
Inspirational romantic suspense
From the Publisher:
Detective Ben Russo is in trouble.
He just can't remember why.

When a car accident lands Ben in the hospital, he can't recall anything about his life. What he does know is he's enchanted by a tiny nurse named Tess, but can't shake the feeling they're both in danger.

After being left at the altar, Tess Jansenn moves to a new town and starts over. When her ex-fiancé, Ben, shows up in the ER where she works with no memory of her, she must decide – tell Ben who he is or let him remember on his own.

Can Tess forgive and forget what drove them apart, and when Ben remembers, will the consequences of his choices make it too late for love?
My Review:
How long can love really last? If it's real, love forgives all things…even when those things don't make sense and potentially involve another woman.
Van Hulzen's story of a man who wakes up with no memory and as the patient of the woman he left at the altar six months previously, is a sweetly dramatic tale of everything that can go wrong when priorities get tangled up.
Tess gets the shock of her life when she meets her new patient – Ben, her former fiancé who's supposed to be off finding himself in Europe after the tragic death of his parents, and the week before he commits himself to Tess.
All the man in the hospital bed knows is that he was in an accident and can't seem to remember much about his life, not his name or residence. Strange puzzle pieces pop into his mind here and there, and odd abilities, like how to handle a gun, and a high level of peace when he's with Tess, confuse him.
Tess decides not to tell him she knows him and let him regain his memory on his own. Both are troubled when his wallet is recovered, identifying him as a man neither of them feel comfortable about. But when the puzzle suddenly, terrifyingly, comes together, the picture reveals danger.
With the help of faith, family and friends, Ben and Tess remember that even though love is never a problem, but together they're stronger when they trust each other.
I found myself eager to keep reading. Van Hulzen's characters are likeable and the journey toward the conclusion enjoyable with some twists. Set in southern California, I enjoyed a nice trip away from Wisconsin, virtual surfing and sand between my toes. Told from Tess and Ben, and occasional secondary character, points of view, this story is a fun read for those who enjoy romantic suspense.
Lara Van Hulzen received her Bachelor of Arts degree in Journalism from Point Loma Nazarene University. She lives with her husband and three children in Northern California.