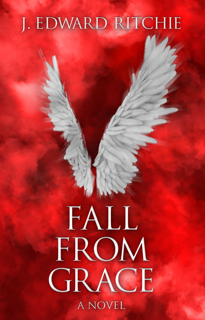 424 pp
January 2015
ISBN-13: 978-1502973863
Heaven: a paradise of all that is pure in Creation. Led by brothers Michael and Satanail, the Angelic Host is a testament to cosmic harmony and love. But when an unprecedented revelation threatens to uproot their peace, a schism splits the Host's loyalties. Every angel has to make a choice: faith or freedom. Good or evil. Salvation or damnation.
War consumes Heaven in the first and most destructive loss of life that Creation will ever know. As brother turns on brother, the fate of Heaven and Earth rests in the hands of the Creator's chosen son, Michael. How far will he go, what will he sacrifice in the name of their Father, to protect his family?
Witness the tragic downfall of a civilization told from both sides of a bloody rebellion. More than myth, more than legend, Heaven's war will forever stand as a harrowing warning that even the purest of souls can fall from grace.
My review:
The author approached me, offered me a copy in exchange for a review. I did my usual double check of legitimacy and some reviews, and yes, saw most were freebies, but I was still intrigued. A slight surge of temporary wealth and the 99-cent price led me to buy the book. I don't mind supporting fellow authors who are serious. And Jeff was personable. Upon opening my copy, I learned it was well-written enough for me to stomach—as an author and professional editor, I'm basically ruined for reading—and discovered very few issues that would keep me from regretting the purchase.
The story of the war in heaven is a stunner. It's fiction—necessary for me to repeat to myself and all other readers. The author is clear that it's not religious. But it's almost hypnotic. I had to stop and ponder several times and spoke to a friend numerous times while reading. I almost wish the author had not used the biblical names for his world and its characters, because for the first third of the book I went down paths of "what if" and "hmm, interesting angle" knowing it's fantasy/fiction. And not Christian.
Some issues are irrelevant because it's not religious fiction or biblical regarding the anatomy of angels and references to humanisms; even the term "Father" for the Creator in a world where procreation doesn't happen, as well as occasional veiled scriptural references might make some dedicated readers of serious science fiction or Christian fantasy groan, but the author's take on the different types of angels and what their realm might be like is intriguing.
The fantasy elements of the Fires of Creation and the weapons of warfare went a little over the top for me, but that's because I was taking the story too seriously. As mentioned, the author pulls in a number of cultural and mythical references and once I realized I didn't really know where the story was headed I had a very hard time putting the book down. It was long—too long, really, and if I'd been the editor I'd have asked him to trim it—but the elements were intriguing. There were very few mistakes that didn't throw me out of the book. Told from multiple narrator viewpoints. I do admit to buzzing though some of the brutal war imagery. Fall From Grace is a worthy debut novel from a talented author.
Fall From Grace
is fantasy fiction using religious names and concepts, but is not an inspirational story. In fact, the graphic violence, occasional language, and sensuality may turn off some readers, so be aware this book is not recommended for under mature later teens at the earliest or those who think it might be theological. It's not. But it might spark some conversation. The author has a number of posts about the story and his research on his
website
.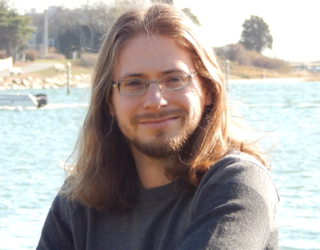 "J. Edward Ritchie is a novelist and screenwriter specializing in epic world creation. He lives in Cape Cod, Massachusetts with his wife and golden retriever."
That's what my novel bio says. Too bland and impersonal? Well, let me tell you a little more about myself. Oh, and you can call me Jeff.
I was born in the rural town of New Milford, CT. Skateboarding, movies like Star Wars and Braveheart, Buffy the Vampire Slayer, video games, and classic literature all had an immense influence on my psyche and molded me into a Frankenstein's Monster of pop culture and academia. I knew what I enjoyed in life and never made excuses for any of it.
For ten years I pursued a career in screenwriting and even sold a few scripts.
The great American novel was calling my name, as it has so many others…
My wife and I relocated to Cape Cod, MA where I finished my first novel, the fantasy epic Fall From Grace. Trust me––you've never read anything quite like my war between the angels. Inspiring and brutal, loving and bloody, it embodies all of the thematic and fantastical elements that made me who I am today.
Movies, TV, books, comics, video games––I dig all forms of creative escapism. That's me in a nutshell: a nerd-of-all-trades. Throughout my years at the keyboard, I believe that I've found the most important piece of advice for all writers. Actually, a piece of advice for everyone: find someone to love.