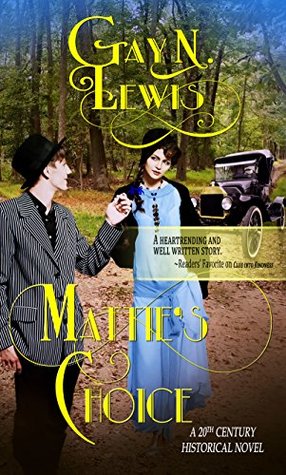 $4.99
$15.99
Buy on
Smashwords
About the Book:
It's 1925 in rural Oklahoma. A naïve seventeen-year-old Mattie chooses to elope with Jesse, leaving behind an ideal life with her wealthy and loving family. With hope for a happy future, she vows to stay with her husband through good times or bad, but the wonderful life Mattie dreams of is shattered by Jesse's abusive nature and his refusal to allow her to see her family.

When Jesse's brother, Joe, brings home his new wife--the vivacious Ella--Mattie believes Ella is living the life Mattie prays to have with Jesse. As the years grow harder and Jesse and Mattie's growing family struggles to survive The Great Depression, The Dust Bowl and illness, Jesse's abuse worsens.

Life also unravels for Ella and Joe as he begins to abuse his wife. Ella makes the choice that Mattie has never considered.

Will Mattie keep her vow to stay with Jesse at the risk of her own life and the life of her children or will she leave him despite the vow?
A brief interview with the author
Gay, tell us what you love about this book.
I love the characters of Mattie and Ella. Mattie is naïve and blossoms as the book progresses. She was reared with wealth, but she wasn't pampered. Her mother and father expected her to learn how to manage a household. She's a talented cook and seamstress. Her problem? Well, she's stubborn—almost to a fault. Her pride kept her from attempting a reconciliation with her father after she eloped against his wishes. Ella is eight years older than Mattie, and she's much more sophisticated. Her parents died when she was young, but growing up, she too had an excellent work ethic. After the death of Ella's parents, her aunt and uncle took her into their home in Galveston. She became a nurse, married and moved to Oklahoma with her husband. Her maturity and education gave her breaks that Mattie never had. She became Mattie's mentor. Through her friendship, Mattie grew self-confidence. This book celebrates the life-long friendship of these two women.
Share two things you learned, either about the era, events, or publication process during the writing of this book.
Oh my! I learned so many. I'd known Frank Phillips created the oil company, Phillips 66, but I didn't know he had also owned a bank in Bartlesville, OK. Phillip's and Conoco merged into ConocoPhillips and are one company today. I love seeing how times and events evolve. I was surprised to learn Will Rogers raised $30,000 in Tulsa for the Red Cross during the Great Depression. People were starving, and these funds bought wheat to disperse to the hungry as well as to defray medical costs in hospitals. During the Great Depression, Oklahoma also experienced the Dust Bowl. Hospitals were overcrowded with starving, asthmatic folks. This money brought relief to them.
What did I learn about the publication process? I learned more than I can shake a stick at. I suppose the hardest lesson was how to present a controversial subject in Christian literature. Most people don't realize that each genre has a formula with certain rules. For instance: no curse words in one, but that's not difficult for me. No sex, and that's easy to eliminate, but subjects such as divorce? Well, that horse has a different color. Divorce is red with horns. In other words, divorce is frowned upon in Christian novels. So is domestic violence.
Introduce us to the toughest character to write.
The toughest character to write was Mattie's husband, Jesse Colby. I wanted to show he had a good side as well as the bad one. Was he a good person acting bad, or a bad person acting good? He provided well, but he had skewed ideas of marriage and how to conduct himself as the "head of the house." I wanted people to dislike him, but to also find a few qualities to admire. Maybe feel sorry for him a little even though they disliked him. We are all flawed, some more than others, and Jesse was definitely flawed. I wanted to show he loved Mattie, but he didn't know how to express it. His warped ideas kept him from being the husband she wanted him to be as well as the one he wanted to be.
Lisa: I think you did that--but it was still hard to find anything redeeming about him.
You had a lot of ups and downs during the publication of this story. Would you like to share one or two of those moments and how you're plunging through the rapids?
Yes! Thanks for asking. Where do I begin? This book went through major transitions. It took me twelve years to write, two publishers and several editors. Prism, my original publisher, merged with Pelican Book Group while this book was under contract. The transition took extra time. And then there's this: Editors don't always agree with writers. Sigh. (hangs head in despair) Editors like to delete scenes that writers deem important. That happened in my case. At one point, I became exasperated—to the point of not caring if this ever book saw the light of day. I'm happy to say it did, but not without a lot of frustration on my part. And I know I caused consternation to those who worked with me too!
Lisa: It's hard to trust others with our visions - especially when you've had it so long.
Mattie's Choice is a departure from Sarah the Love Angel. What led you to this story?
I admired my mother-in-law and my husband's aunt. They are the inspirations to Mattie's Choice. My mother-in-law lived with a controlling husband. He never physically hurt her, but he did emotionally. He refused to allow her to see family and wanted her pregnant. This strong woman had fourteen pregnancies. Two miscarriages and one stillborn. If he hadn't died when my husband was a child, I guess she would've had more children. He was a difficult husband, but she reared eleven children to become successful, God-fearing adults. She stayed positive during hard times. She did what I couldn't do. I revered her and believe God blessed her with tenacity and determination. She stayed true to her convictions when most of us would have thrown in the towel.
What's next for you?
I have the sequel written to Mattie's Choice. It's going by the title Rebecca's Family Secrets. Rebecca was one of Mattie's children. She came by way of adoption. This story is a romance and of course the mystery is the secret. I'm in the process of fine-tuning it. This is a Christian story with no divorce or violence in it.
Lisa: I look forward to reading it. I was curious about her.
What are you reading now?
I'm reading Regency Romance right now. This is a time frame I never plan to write in.
Lisa: It's always good to read outside of our field. Enjoy!
About the author:
Gay N. Lewis
As a pastor's wife, she writes Faith Features for various church periodicals. She also writes articles for Texas Hill Country. Gay is also a published author for Pelican Book Group in romance and fantasy fiction. Her current series is about a dyslexic angel who comes to earth to help humans, but Sarah, the angel, is more like Lucy Ricardo with humorous antics and bumbles.
All of the Sarah books have appeared on Amazon's Best Seller's List. The Sarah series is a
vailable in eBook format as well as print at Amazon, Barnes and Noble, Pelican Book Group, and other book sellers. Some additions are available in Amazon Audible. Each book in the series is a standalone novel.
Her latest books, Mattie's Choice, and Clue into Kindness are not fantasy and romance. These books are women's fiction. The stories are about abusive men and women who are addicted to an unhealthy relationship.
The books are available in print, eBook, and audio.
Gay would love to have you see her video trailers and become a follower of her blog.
Sarah has her own Facebook page. Follow Sarah on Facebook@ Sarah Wingspand