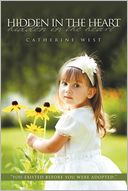 Publisher:
OakTara (September 15, 2012)
From the publisher:
Everything Claire wants seems to be beyond her reach... After losing her mother to cancer and suffering a miscarriage soon after, Claire Ferguson numbs the pain with alcohol and pills, and wonders if her own life is worth living. Adopted at birth, Claire is convinced she has some unknown genetic flaw that may have been the cause of her miscarriage. She must find a way to deal with the guilt she harbors. But exoneration will come with a price. With her marriage in trouble and her father refusing to answer any questions about her adoption, Claire begins the search for her birth mother. For the first time in her life, she really wants to know where she came from. But what if the woman who gave her life doesn't want to be found?
My review:
Cathy West seems to excel at poking for your heart, cutting it into tiny little pieces, ripping out your guts and sewing it all back together with a little extra love and admiration added in.
No sophomore syndrome for this author, in my opinion. Right from the start of West's new novel, Hidden in the Heart, I walked with Claire, who was completely out of control with grief and fear and loss of identity despite having everything most people only dream of. She certainly wasn't likeable, nor could she even like herself. In her determination to find a cause or someone to blame for her miscarriage she sets out to find her birth parents.
West drew the threads of her story together tactfully. It wasn't hard to figure out who was who, but, rather, the novel was more an exploration of who they became. Why do we abandon the things or people we love? Only from great depths can people rise to new freedom, and sometimes only when we are offered a second chance to revisit our past can we learn to forgive ourselves, let alone the people we wound.
Claire might have had everything from a husband determined to love her no matter how self-destructive and hatefully embarrassing she'd become, wealth and a loving home, but she threw it all away in order to search for answers to fill the hole in her identity, even if the rest of her birth family is determined to keep secrets or bent on revealing the worst of themselves. Readers shouldn't be surprised at the real conclusions, but will certainly grieve and rejoice with Claire and her new-found sense of self and family.
West says her novel is very loosely on her own experiences of being adopted. I've come to admire this author for her realism, the depth of character and the beauty-in-the-face-of-ugliness of her story lines. Well done.
About the author
Catherine West is an award-winning author writing inspirational stories of hope and healing from her island home in Bermuda. Educated in Bermuda, England and Canada, Catherine holds a degree in English from the University of Toronto. Her first novel, Yesterday's Tomorrow, released in 2011, her second, Hidden in the Heart, in September, 2012. When she's not at the computer working on her next story, you can find her taking her Border Collie for long walks or tending to her roses and orchids. She and her husband have two college-aged children. Catherine is a member of American Christian Fiction Writers and Romance Writers of America, and is represented by Rachelle Gardner of Books & Such Literary. Catherine loves to connect with her readers and can be reached at Catherine@catherinejwest.com