Author Vanessa Riley introduces her second Christian Regency Romance, Swept Away
About the Book:
Charlotte Downing, the Duchess of Charming, wants what she wants. Today, it's a fine pair of lacy slippers crafted by the renowned Ella's Establishment. To be picture perfect for her presentation to the queen, Charlotte will survive crashed ceilings and falling bricks. Yet, has she met her match in the conservative merchant, whose autumn colored eyes make her pulse race, especially when he says no. Caught between the glittering world of the Ton and the respectable profession of selling shoes, Edwin Cinder can't understand the lady's persistence or the fire lighting her blue eyes when she's challenged. With his lack of pedigree, there's no chance for this common God-fearing man to win her hand, but he'll risk all to save the duchess from the ravishes of a London gale. Swept Away is a Regency Retelling of Cinderella with a twist.
A brief Interview with the Author:
Vanessa, what do you love about this book?
Swept Away is a Regency version of Cinderella. Charlotte Downing, the Duchess of Charming, is a strong heroine trying to be as good as her father, the late Duke of Charming. The desire to be as good, an equal to any man, makes her very focused on emulating her father, and sometimes it makes her as pushy and as set in her ways.
I really loved creating a bold, but flawed heroine. She is trying to find her way and of course, she makes mistakes. Yet, Charlotte has the heart of a fighter and when she has a chance to save herself, she can't walk away and risks all to wield an ax to save the hero. She's very different, and that's why I like her.
Share something unique we won't learn from your website about this story.
My critique group and I developed the idea to do a series of retold fairy tales centered around a place called Fairwilde. Our collection spans over 200 years. It was very interesting to see how each of us incorporated that theme into the stories.
What was your inspiration from this book?
My inspiration for this book was to do something different and set it in my beloved Regency. The first twist was to make Cinderella, a mister. Once I started tweaking the basic plot, I couldn't stop. So my Cinderella, Edwin Cinder, is not a pauper, but a wealthy shoe merchant. Though he's rich, he's not a gentleman. That status leads to problems with him fitting in to pedigreed classes and his needy stepfamily.
Stepfamily issues aside, he's the fellow trying to make sure everyone else is taken cared of, even at his own peril. Mayhem, romance and crashing ceilings commence in the madcap tale, as the duchess and the shoe merchant have to work together to survive.
Tell us something you learned while working on this particular project.
I loved researching storms and gales that affected London during the 1800's. Reading actual newspaper accounts of the aftermath helped to picture how devastating these weather events were.
Thank you so much for having me.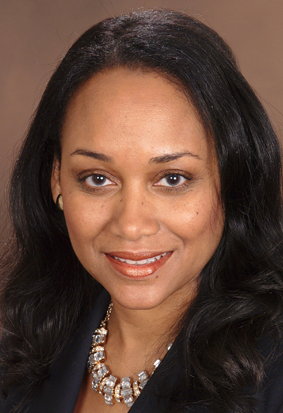 Even as she pursued engineering degrees, Vanessa Riley's love of 19th century history yielded a hunger to take as many Western Civilization credits as possible (two classes shy of a minor). Vanessa adores Regency times with its conflicts between Church and State, the clash of the classes, and the sweeping romances. Her mission is to have the world fall in love with powerful Regency heroes and heroines who battle for peace with a flintlock and a prayer. Vanessa writes from the comfort of her southern porch with a cup of Earl Grey or Cinnamon Spice.
For more information about Vanessa, visit her website.
Purchase Swept Away at: