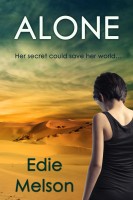 Alone
Edie Melson
Prism Book Group
November 4, 2016
$3.99
$11.99
About the Book
After her family is killed in the cleansing, Bethany's purpose in life has changed. No longer will she be allowed to work to save her dying planet. As a slave, endurance is her goal as she marks each day as one moment closer to an eternity spent reunited with those she loved. But when her planet is invaded, everything changes. Now she must decide either to align herself with those from her planet who condemned her faith and killed her family, or with the warriors who have conquered her world. Ultimately her choice will mean life or death for more than just her planet's ecosystem. She alone holds the key to a powerful secret, and the fate of the entire galaxy depends on her decision.
My Review
Reminiscent of the best Robert Heinlein or Arthur C Clarke stories, Melson explores the Christian faith spread through the galaxy. What might it look like over time and adulteration? It's not all that different from ethnic cleansing on earth.
A dying world exploited to the extreme by a small group of powerful people are led by an influence of evil greater than time…a race of appointed spacefarers bent on taking over…an interpretation of moral codes passed down from generation to generation and now at great cost…and the cypher to a great formula the price of which is life as known.
I confess to changing my mind several times about the true identities of the good guys and the bad guys, who was telling the truth, but most importantly, who was trustworthy. Melson's science fiction draws in echoes of my favorite stories, from Romeo and Juliet to Michael Crichton to CS Lewis. I enjoyed trying to decide whether the people of Bethany's world understood what was at stake, how I might react if such a thing happened on earth, and whether the warriors were based on stories of the Nephilim from Scripture. I wondered what Bethany would decide to do, and who she would trust. Thought-provoking, action-packed, and well told, those who like Christian science fiction will find much to like in Alone.
Edie Melson is a leading professional in the writing industry. She's a sought after writing instructor; and her heart to help others define and reach their dreams has connected her with writers all over the country. She's the co-director of the Blue Ridge Mountains Christian Writers Conference, as well as a popular faculty member at numerous others. http://steampunkfables.blogspot.com/